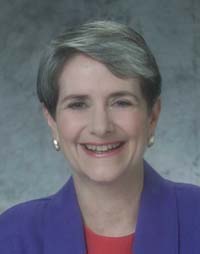 My Life as a Needleworker
I began my needlework "career" at about age 7, when my maternal grandmother, for whom I am named, taught me to appliqué. I still have the project! It won't wear out! It was two dish towels, and I appliquéd a pear on both with buttonhole stitch and finished the ends of the towel with more buttonhole. I -hate- appliqué! I didn't like it when I was doing it then, and I don't like it now. And I'm not too fond of buttonhole stitch, either! I'm surprised I investigated other kinds of needlework after such an unpalatable start. I soldiered on and finished the towels, though, thus setting the pattern--eventually I finish everything I start--a matter of principle, you see!
My next projects were stamped surface embroidery with stem stitch and lazy daisy. A potholder and a toaster cover, neither of which I ever used. I guess I'm saving them for posterity! Pretty awful-looking things, I have to admit.
My paternal grandmother was a great crocheter. She could make any kind of three- dimensional object with crochet. I was--and still am--amazed at her skill. She tried to teach me and was fairly successful, though I didn't take to filet crochet with as much enthusiasm as she had. I do enjoy granny squares and have crocheted a bunch of snowflake Christmas ornaments and wine glass coasters over the years.
Around 7th grade, my mom taught me to knit, and I knitted furiously for years, even finishing sweaters my sister started for her boyfriends. I haven't knitted much since my kids got beyond the baby stage. (I guess I'm waiting for grandchildren!)
In the '60s and '70s, I did crewel embroidery and quilted. I studied quilting with a former high school geometry teacher, and she made us do everything from scratch with a compass and straightedge. No templates for this lady! As a result, I still hand-draft, hand-piece, and hand-quilt everything and wouldn't consider letting a sewing machine or a purchased template get in on the act! (I realize this is compulsive behavior! It probably is abetted by my training as a historian!) Still have my first quilt to finish the quilting on (I'm 7/9s done, though!). I rationalize this sorry state of affairs by saying that I -did- take time out to make several other quilts as gifts. I embroidered some borders on sheets and pillowcases but other than this didn't do much embroidery, though I did try again on the appliqué (a baby gift) and discovered I had been correct at age 7.
During the '80s, it was mostly needlepoint, including many sets of plastic canvas coasters (kept one for us but gave the others as gifts). They sound awful, but they are quite useful; I used acryllic yarn and backed each one with cork. Naturally, I had to make "holder," too. Christmas, nautical, and cacti were the primary types.
I did quite a bit of Bargello during this time, too. And I continued knitting. Never a skilled garment-sewer, I did make many, many pairs of pajamas for my boys, as well as light- weight foul weather gear for sailing. Also tried my hand at quilling and reverse painting on glass and did gobs of that.
In the mid-'80s I discovered counted cross stitch and knew I had found my metier. My first project was a set of two large samplers of different quilt blocks, which I designed myself (nothing like starting small and easy!). (Also in this picture are two quilt blocks made by my great-grandmother.)
I didn't know anything about scroll frames, so I mounted my work vertically the very first time and have never changed. Since this point I have become wonderfully addicted to this form of needlework and have added pulled- and drawn-thread work to my repertoire.
One thing I have never been able to do well is to tat. It's a terrible, snarl-y mess! (You can see my entire tatting oeuvre here on my site if you are brave enough.) Well, I am able to needle tat. I shall be happy with that. Being able to tat at all is to have achieved Mt. Everest.
Actually, now that I think about it, Mt. Everest explains a lot about me.
---
Needlework Home Page | Tips and Tricks | Copyright and Needlework | My Needlework Publications
Business of Needlework | My Recently-Completed Projects | Free Charts
Needlework Links | Needlework and RSI | Questions and Answers | Home Page
---
marbeth@datarealm.com
---
Last updated December 31, 1999.