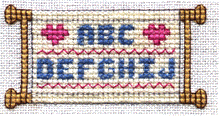 Bride's Gift Ornaments
According to German tradition, brides receive a set of twelve "starter" ornaments for her Christmas tree. Each ornament has a meaning. For multiple meanings, pick one!
angel (God's guidance)
bird (joy; happiness; dove: Holy Spirit's presence)
fish (Christ's blessings)
rabbit (hope, faith, peace)
house (protection, security, shelter)
pinecone (fruitfulness, motherhood)
rose (true love, faithfulness, affection, love of family)
teapot (hospitality)
fruit basket/bowl (generosity, plenty)
Santa (goodwill, generosity, unselfishness)
flower basket (good wishes, beauty)
heart (affection, love of family)
This would be such a cute wedding gift! I'm going to try it the next time I have a wedding gift to make. I thought you'd like the idea, too. Enjoy! (No one has come out with a set of patterns, however. I did suggest to Thea Dueck that she do some! Nothing yet, though! It looks as if I may have to gather my own charts when I'm ready to make these.)
~ ~ ~ ~ ~
Update, 2012: Fast forward 13 years. As it happened the wedding I next encountered was the wedding of my son! I am making a set for his wife. The motifs are about 2" x 2".
I will update later with a picture, as well as a list of where I found the charts. (That was quite a hunt, especially the fish!)
Meanwhile, in my quest for a suitable fish chart (my stash and all my magazines – that was a chore, folks!), I found this leaflet (and bought it immediately, of course): 150 Itty-Bitty Motifs by Jorja Hernandez (Leisure Arts; she is/was part of the Kooler Design Studio). Most motifs are about 1" wide/tall. If you want to make a mini set, here you go!
angel - There are several.
bird - There are several, including a hummer. If you want a dove ("Holy Spirit", as opposed to "joy"), change the colors on the bluebird to white, and add a little shading [ex.: in DMC 762] below the wing [see the shading under Santa's moustache] and making the beak more delicate. You also might be able to transform the duck on the nest by changing the beak. If you want a dove, however, they are not usually shown on a nest, and it might be difficult to discern what the bird is, so I'd make the dove out of the bluebird. To seal the deal, devise a bit of greenery in its mouth (to signify an olive branch).
fish - There are two (the goldfish somehow seems not quite the thing). Change the belly on the trout to a light green; yellow says "trout!" in a big way! Shades of green are more generic.
rabbit - Change the ears and tail on the squirrel. There is, however, a rabbit holding an Easter egg; you could flesh out the body to show the other side; I would skip the egg.
house - Change the mantle clock to a house by adding a door and windows/shutters and taking the handle off the top; you may want to make it more narrow. There's also a dog house; you'd have to remove the dog and make it look like a people-house. Or, you can chart a house yourself because houses are very easy! There are a couple of trees, should you like to add one of those.
pinecone - Use the raspberry (located next to the grapes) and add a few < in backstitches for the overlapping "scales." Remove the raspberry leaves and put a little bit of evergreen (next to trumpet) behind it (or draft your own evergreen sprigs).
rose - There are two (maybe three, if you count the white flower to the right of the watermelon).
teapot - Also a copper teakettle, if you prefer that.
fruit basket - There is one. I left mine as a bowl, but you could change it into a basket if you like (see below).
Santa - It's the head only, but that's just fine here. A whole body in this scale would be like a red blob with a sunburned marshmallow on top, in my opinion.
flower basket - This is also a pastiche. Use the container from the fruit bowl and change the colors to look like a basket. Add a handle. If you like, use backstitch to show the over-and-under of the weave (2 stitches long, leaving 1 stitch to show the over-under detail. Using the yellow daisy from the daisy-on-the-picket-fence motif, put three flowers in the container. (I don't particularly like the shape of the little blue vases with the yellow/pink flower in them; difficult to discern what it is.)
heart - There are several.
As to finishing these small ornaments (leave a border of about 1/2" - 3/4" of blank fabric all around the motif), here are some ideas.
For easy and quick finishing, fuse to fabric using Pellon fusible web (by the yard at a fabric store). Glue a hanger on the back. I think this finishing method works best with Aida. If you are thinking of an evenweave, consider Lugana or some other round-thread fabric with small holes. Test whether the backing color shows through: lay your backing on a chair and lay the project cloth on top; step back to view - as it would be on the tree. If the color shows through, leave the mockup there so you can contemplate it for a day or two, to see if that show-through bothers you. Sometimes when we are working up close, we don't see the "cast" a backing fabric can sometimes impart. Consider stitching another piece to glue/fuse onto the back of each ornament, noting the meaning of the symbol and the year. I don't recommend glue (diluted Elmer's); it tends to warp a flat project. (Dry between sheets of waxed paper, weighted with books. Give it a couple of days.) Sometimes it works if you put on two or three thin coats. I'd do a mockup to see how many coats and how thick not to spread the glue (thin coats is the default). Fusible web is the way to go here, in my opinion.
Also consider mounting on a piece of felt with fusible web. Leave a little border of felt or not. You might want to cut the felt with pinking shears, but note you have to cut carefully and align the scissors in order to produce the same sort of saw tooth on the edge of the felt. See discussion below of running stitches around the edge.
For a more elaborate finish, make stuffed "pillows." (Meaning and year go on the back piece, of course.) Attach the fronts to the backs with chain-stitch joining with pearl cotton #12. You could whipstitch twisted cord over the binding. To make the binding more festive, you could do the whipstitch with a colored or metallic thread; or thread on a bead as you make each whipstitch. Add a hanger, attaching it as you come around to the top while whip stitching. You may need a dime or a penny inside the pillow to "make it hang right" because it will be such a small and light-weight ornament.
You also could finish by taking the four corners of the fabric to the back (will look like a +) and whip stitching along the four diagonals. (There are complete instructions for this at various locations on the web.) If you finish in this fashion, I recommend you make a mock-up so you don't cut the project cloth too small.
To increase the size of these "pillow" ornaments (which will make finishing easier because they're larger to work with), run a border of a fancy stitch (one strand) around the edge, about 1/4" - 1/2" from the motif. Try Smyrna cross, rice, rapid stitch or two rows of running stitch (or backstitch). A small, simple blackwork pattern also would work; try a row of diamonds no more than two stitches high (or alternate that size with ones that are one stitch in size). Anything more "massive" (such a Rhodes square or leviathan or elaborate/large-scale blackwork) will overwhelm the motif. If you add a border to the front, it would be lovely to add one to the back, too.
These ornaments would work on perforated paper, too. Back with stiff wrapping paper (be careful of warping) or leave the back unfinished, which is the tradition with perforated paper.
Also consider using stick-on "puffy mounts." Finish as instructed on the package. You will need some sort of frame, or you can cover the edge with ribbon or twisted cord. As you may have read elsewhere here on my site or have drilled into you during my needlework festival classes, adhesive surfaces are not a choice for finishing needlework. I think that it's ok for this use, however. We hope they become heirlooms, but I don't think these ornaments are as important as a framed sampler and are smaller, to boot (so there's less "contact" between project cloth and cardboard).
Another idea is to mount the piece in a drapery ring on a piece of cardboard. You also probably know that I'm not fond of mounting with cardboard/foamcore that's not acid-free, either. Here, I think it's ok. Maybe cut a little piece of batting to insert between the needlework and the cardboard? Cover your mechanics with a piece of felt or stiff wrapping paper. Depending on the finished size (which can be influenced by fabric count), you might be able to find plastic "craft" rings to use instead of the drapery ring (try the notions department of a fabric store; Dritz and Susan Bates brands make them). You also might find a shower curtain rings that will work.
Plastic "picture frames" (usually round) are another possibility. They are not as readily available as they once were. A craft store is probably your best bet. They come with a cardboard backing; follow their instructions.
~ ~ ~ ~ ~
Update, 2013: Finally I made my set! Here they are.
I goofed on cutting the project cloth (embarrassing details, below), so I stitched a border of running stitches three stitches from the edges of the motif. Therefore, most have minute differences in size. A couple are also different shapes because the motifs were not always square-ish.
I put metallic gold on the ones representing God, Christ, and the Holy Spirit. I like that each motif is a somewhat-different "style."
I used charts from the following books. They're all must-haves for your stash, in my opinion, even if you don't do the bride's set, because you often have need of a little motif, especially when stitching Christmas ornaments, samplers, clothing items, tiny samplers or other picture-type pieces for gifties, etc. When I can find the others in the Hillis and Busa series, I'll be getting those, too.
116 Mini Christmas Ornaments (Leisure Arts; Linda Gillum, Barbara Baatz, Sandy Orton)
Cross Stitch Lite - #2 Pins (Graph-It Arts; Lynn Busa)
Pretty Pins IV (Sue Hillis Designs; Sue Hillis)
365 Tiny Cross Stitch Designs (American School of Needlework; various Kooler Design Studio artists)
Donna Kooler's 555 Fabulous Cross-Stitch Patterns (Sterling; probably various Kooler Design Studio artists, though no artists are identified, alas; whether Donna did any of these, I don't know)
I decided I wanted motifs about 2" x 2" so the ornaments would not be huge. Some of these motifs were 2 ½" to 2 ¾", but I decided that if the ornaments were slightly different sizes it wouldn't be a deal-breaker because they wouldn't be hanging next to each other on the tree.....but one could put them on a "feather tree" as a display item. Even so, any slight differences in size shouldn't be a problem, especially if the slightly-larger ones are put on the bottom "limbs."
I had the "pillows" in mind as my finishing technique. I calculated very carefully the size fabric I needed to buy, including making allowances for the bolt fold (which is nearly impossible to remove). I basted for the cutting lines, re-measured, the whole nine yards. I didn't want to make any errors by cutting directly without basting and risk getting the project fabrics too small (which I am prone to do). I was stitching the second ornament before I was smart enough to ask myself why I had such a small amount of margin to work with. I had cut the working fabric too small!! Duh, duh, duh. Every single piece, including the backs! Duh, duh, duh. I had cut on the line that was supposed to be where the chain stitches were to go (for chain stitching joining)! Duh, duh, duh. Drat, drat, drat. I wasn't about to re-stitch what I had done, so that's when I came up with the idea of fusible web and the backing fabric! I ended up stitching a row of running stitches around the motifs to give each ornament a more definition at the edge.
Here's where I found my charts, what I used, and changes I had to make:
angel - Hillis. I changed the colors to purples (my DIL is named Violet). I also stumbled upon a picture of Sue's "revision" in the wing shape and detail (on the web), so I used that picture for my own wings. I also removed the "dangling" heart and stitched a harp (my chart) directly in her hands. Added gold #4 Kreinik braid to the harp and gold #8 near hem of dress and sleeves. There are probably angels in Mini, 365, and 555, but I had picked out the Hillis angel when I first began my quest. In fact, it was the size of this chart that determined the size of the motifs I used.
bird - 555. This was another tough one. I used the left dove in 555 p. 50, then added "rays" in gold #4 Kreinik braid. There's a bridal wreath chart in 365 (p. 75); use one bird. See also p. 76; this one is small and not very detailed. There are many other birds in 365, some of which you might be able to convert into doves. In 555, see also p. 46. For bluebirds, see 365 p. 78 for a bridal design; use one bird. There are other birds in 365 that you can "convert." Lots of birds in 555, pp. 20-21.
fish - Sharon Smith (web freebie; thank you, Sharon!). I changed the belly from yellow to a light green and the head to a green slightly darker than the belly but lighter than the upper body and fins. I stitched A and ? in large letters behind the fish in gold Kreinik #8 braid. There are zodiac fish in 365; I thought I'd have to use one of these, changing the purple to another green. Luckily, a friend found Sharon's chart for me (she said she had guessed correctly how I'd change it!). 555 also has several fish (definitely trout-like; and one that looks like a flounder), but I didn't find them attractive; or the right size.
rabbit - 555 p. 11. See also p. 12. 365 has rabbits. In Busa, although the rabbit is very cute, it was too small for my set. I considered using it and adding some grass or something to enlarge it.
house - 555 p. 79. There are many houses in 365, some of which were too large for my scale. Others in 555.
pinecone - 365 p. 151; see also p. 150.
rose - Busa. There are oodles of rose charts out there. Donna Vermillion has a flower compendium with numerous roses; most are huge, so hunt for a small one! Look in 365 and 555, also.
teapot - 365 has teapots for each month. I chose January (p. 17) but considered a few others (some of which were "fussy" and would require some pruning...oooo...pardon the pun!).
fruit basket/bowl - 555 p. 70. See also 365 p. 134. Also Pins (apples only, but I know you could devise some other fruits to go in it).
Santa - Mini p. 43 (Santa with the bag). You are spoiled for choice for Santa in this book! I didn't even bother looking in any of the other books, although Hillis has a darling Father Christmas; and Busa has a cutie, too. Check your stash and also look in 555 and 365.
flower basket - 555 p. 81. See also Busa; this one is quite small, however.
heart - Hillis. Another motif that appears in abundance out there in "chart land" and doubtless in your own stash! There are many hearts in 365. Also look in 555.
~ ~ ~ ~ ~
Here are some other books of small motifs. You might find something here you prefer.
2001 Cross Stitch Designs (Better Homes and Gardens; various artists) (roses, angels, Santas, rabbits, houses, etc.)
501 Cross Stitch Designs (American School of Needlework; Sam Hawkins; houses, flower baskets, rabbits, roses, hearts, fish(!), angels, etc.)
You can never have too many books of motifs, so, as I have, you may wish to add these anthologies to your stash.
If you want Americana/18th-century sampler motifs, look at these books.
Alphabets, Motifs, & Borders (Sampler Company; Brenda Keyes) (some of the motifs do not exist in these samplers, so you'll have to convert some and/or design your own in a consonant style)
Traditional Samplers (David and Charles; Brenda Keyes; sampler motifs)
You may come across Donna Kooler's Seasons in Cross-Stitch. This one will not yield motifs you need for this project, as they are all huge pieces (from which you would pluck what you need). Also, not all the motifs you need are present or "convertible." The charts are incredibly difficult to read! The backstitch lines are bold, and there is no grid (just stitch symbols). I got it because it said "four seasons." I am greatly disappointed in it and haven't used it. For bride's ornaments, this book won't work. In my opinion.
~ ~ ~ ~ ~
In my research, I found some additions to the traditional twelve I didn't use these because I don't particularly care for them and like tradition, anyway, but you might! As far as that goes, why not add some of your own symbols and meanings?
moon (romance)
grapes (prosperity)
star (hope)
And, I discovered, after I started my eclectic set, that Brooke Nolan, has come out with a set. They are exquisite, as is all her work. If you want soft colors and an ultra-feminine look, check out hers.
No, Thea Dueck still (as of January, 2013) has not presented us with what I am sure will [eventually] be a gorgeous set, probably loaded with Hardanger and lots of fancy stitches. Ahem, Thea.....
Update, June, 2013: Thea e-mailed me that she has completed her set! Here is her wonderful bride's ornament collection, complete with a chart for a beautiful box lid featuring all of them! Thanks, Thea!
~ ~ ~ ~ ~
Now you have NO reason not to stitch a set of bride's ornaments, whether you collect charts on your own from different sources or use someone's collection! No bride on the horizon? Stitch a set for yourself!
copyright 1999-2015, Martha Beth Lewis
Contact me about reprint permission.
---
Needlework Home Page | Tips and Tricks | Home Page
---
marbeth@marthabeth.com